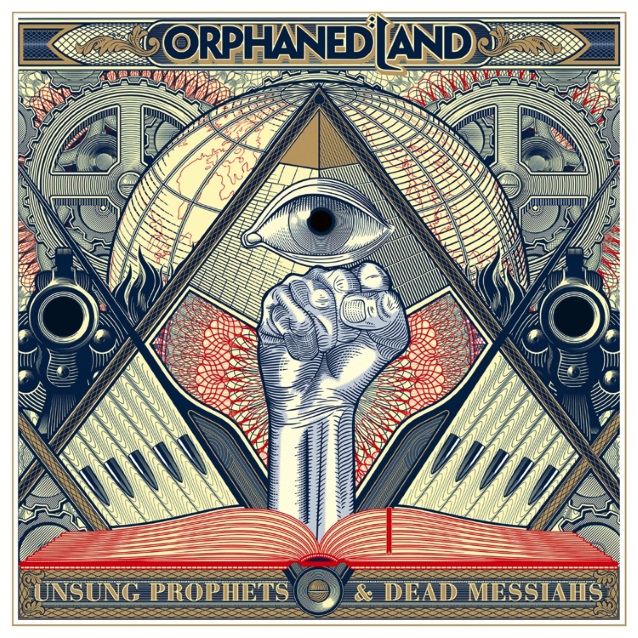 Why, why, why, have I never heard
Orphaned Land
before??? Why? And what is it, about certain music, that at the very first note you know... this is special?
(You may recall that I asked the same question, the f
irst time that I heard another band,
a few years back. Same effect. Hooked from the very first note. More on that later.)
Orphaned Land's
latest album,
Unsung Prophets and Dead Messiahs
, is a gigantic, gorgeous, over-the-top musical feast. On hearing them for the very first time, it's like a festival where Blind Guardian and In Flames are dancing together to the beat of the heaviest, double-bass-laden-metal drumming, with twenty Fiddlers on the roof and vocals that range from a deep growl to something from your own personal heaven. It's a fusion of western rock, northern metal, middle-eastern melody and rhythm, and a message or twenty of peace.
Steve Hackett
makes an appearance--you recognize his timeless guitar in a moment--and there are some very telling, poetic snippets, the final one perhaps the most famous, from George Orwell's 1984:
If you want a picture of the future, imagine a boot stamping on a human face, forever.
And then... how to stop it happening.
Unsung Prophets and Dead Messiahs
is such a musical feast that I now have to go and gorge myself on their back catalog... and to try to catch
Orphaned Land
live, sometime soon. They will be here in the UK next weekend, performing at
Bloodstock Open Air at Catton Park in Derbyshire
.
All other tour dates are here
.
But why, you might ask, did I only hear
Orphaned Land
for the very first time, today? They've been around, in one form or another--always with vocalist Kobi Fahri and bassist Uri Zelcha--since 1991. And yet... only today. I'm sorry I missed so many years. It's going to be fun catching up. Yes... the reason I heard them today: I went to vote in the
2018 Progressive Music Awards.
One of the categories is Video of the Year; one of the nominees in that category is Orphan Land's Like Orpheus, from Unsung Prophets and Dead Messiahs... and I noticed that it features Hansi Kürsch, so I had to watch it, seeing as Hansi is one of my favourite vocalists (and the singer with
Blind Guardian, the band mentioned above where I asked, why have I never heard this band before??
)
Here's the video: there's an important message, at the very end. Don't miss it!