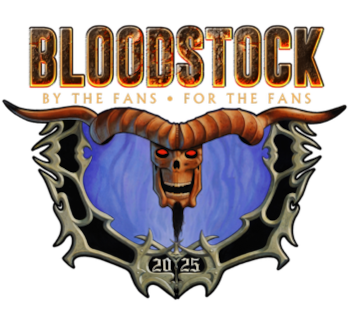 By this time, next year, I promise to have my house in order, my ducks in a row, my boxes crossed and checked, and everything else done that I have to do to be on time, up-to-date, fully-informed and right there for all the UK and European festivals. I will have found, or created, my festival calendar. I will have my press credentials sorted, cameras ready, and my place in the pit arranged, on time and fully loaded to bring you the best of British! This year... well this year is just this year. Think Transition. If you've never moved internationally, don't judge ;-)
One festival that I should have known about wayyyyyyy far in advance, is coming up soon:
Bloodstock Open Air, in Catton Park, Derbyshire, from 9th to 12th Augus
t--that's a week tomorrow! Not ony is the lineup huge, the whole experience looks amazing... including all the camping options (which, my bad, are of course all sold out now). Camping, glamping, and even beach-hutting-without-the-beach-but-with-lots-of-metal.
Here's all the info on the variety that was available
. Where I would have been staying, had I been awake.
Joe Duplantier, Gojira, at last year's Louder Than Life, Louisville, Kentucky
And the music? That's what it's all about!
Birmingham UK's own Judas Priest, heros of heavy metal
headline Friday's show;
Gojira from France
are Saturday's top-of-the-bill, so heavy and
so very, very good
: with
Nightwish from Finland
closing the whole event on Sunday night, but there are so many bands from around the metal globe on
four stages, beginning Thursday: see the full lineup here
.
Check out
Fozzy
, on Sunday, for example. I last saw them in Sacramento, California, last year at Aftershock...
another wonderful festival
. Hey here's an idea...
Bloodstock Open Air
next weekend.
Louder Than Life
at the end of September.
Aftershock
in October? Don't mind if I do...
Bloodstock Open Air
is going to be enormous. It's going to be so heavy, the planet might melt.
Me? Believe it or not, there are still
a few day and weekend tickets available
. I grabbed one for Saturday. I'll be right there to see
Orphaned Land, on the Sophie Lancaster stage, on Saturday.
Can't wait! (
Yesterday, I thought that they were performing near Liverpool (fixed it now)
... I need to revise my British geography. Been away far too long.)
Now where the heck will I sleep...
Chris Jericho of Fozzy, Aftershock Sacramento, and in the Bloodstock lineup